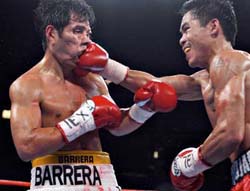 After the legal battle over Pacquiao between Top Rank and Golden Boy Promotions had been settled, the rematch that every boxing enthusiasts has been waiting for will finally take place on October 6 at Mandalay Bay Hotel Casino. Manny Pacman Pacquiao versus
Marco

Antonio

Barrera

,
the fight we should never miss.
Surely, this will be a good fight. Can Barrera make his revenge after the beatings he got on their first encounter? My fearless forecast: Pacquiao will knock Barrera out again. Which round? Pacquiao will knock him out on Round 3, just like what he did on Erik Morales.
Source: Golden Boy-Top Rank Sign Agreement
http://www.macuha.com/2007/06/sports/manny-pacquiao-marco-antonio-barrera-rematch-on-october-6/